St. Thomas Church
A brief history
St. Thomas Church is a unit of the Church of North India and is situated at Baccha Park (Children's Park) Meerut and is very close to the Roadways Bus Stand. It was built in 1868 by Rev. C. T. Hoernle, Missionary of the Church Missionary Society (born Nov 24, 1904 - died June 7, 1882) and his wife Emilie Hoernle (born June 26th 1813 - died Oct 7, 1883) The couple together served in India as missionaries from 1838 - 1881. Rev. C. T. Hoernle's eldest daughter Emma (born Nov 11, 1844 - died April 2, 1869 at Bhagalpore) was married to Rev. H. W. Shackell who was the Missionary to the Santals, in this church. Rev. J. C. Herman Hoernle (born 1838 - died 1907 in Germany), C. M. S. Missionary was the pastor - in - charge of this Church from 1876 to 1888.
anglicanhistory.org/india/chatterton1924/22.html
Rev. Prakash Benjamin is the Pastor - in Charge, his mobile number is +91 9837277427
Rev. Sushil Kumar is also serving the Church as a pastor. His mobile number is +91 9219251094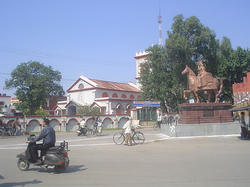 view of the St. Thomas Church from the main crossing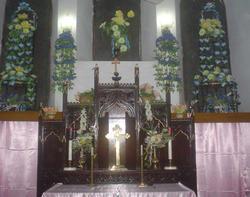 The Alter
Free
Feel free to download and use images.