More Photos
United Christian Convention - Meerut
The Lord really poured His blessings !!! On the third day the response and the results were more than what the United Christian Convention Committee had asked for !!! A gentleman pledged all monetary help for the next convention !!! The response to the alter call was a 'rich harvest'. The tent was capacity full, we need more chairs for the last day tomorrow !!! The donations we received from the congregation is above our expectations !!! " ... there is a cry of revolution in my country ... " AMEN !!!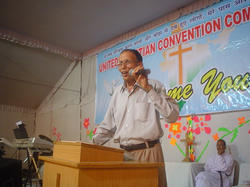 Bro. D. J. Singh - Secretary - United Christian Convention Committee his committment is the secret of the success of the convention
Rev. L. H. Portion, a senior Methodist pastor encouraged us with his presence, seen with him are a generation of new pastors Rev. Dinesh (Assembly of Beliver's Church) and Rev. Manish Mukherjee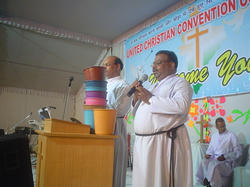 Rev. P. Benjamin (St. Thomas Church) leading in prayer, thanking the Lord for the collection, 12 baskets full !!!